News
The lack of choice
is the worst-case scenario  - source:  Nowoczesny warsztat nr 9/2021 ("Modern workshop" magazine)



Andrzej Senkowski, Polcar, owner
The fact that choice exists is crucial to both the customer and insurance companies. What if e.g. radiator grilles, parts necessary to repair a car, became unavailable? Andrzej Senkowski, Polcar, provided insight into the alarming situation that is affecting the body parts market today.
[■ interview by Rafał Dobrowolski]
■
Professionals know very well that replacements parts should provide the same usability and quality as original parts.
    This is where aftermarket comes in, having the ability to produce parts and supply independent body shops, taking advantage of the so-called Repair Clause, introduced in 2007 in Poland. Such parts have been Polcar's focal point for years. With one exception – Audi radiator grilles. Customers should become well aware as to why we decided to stop offering these items.
    This is an alarming exception to the very basic EU rule, that gives customers free choice. The interesting fact is that neither Mazda, Citroёn, Peugeot nor any other car manufacturer undermines the market existence of this kind of replacement parts – in parallel with original equivalents. After a legal battle in Germany, Audi seems to be preparing an assault on the Polish market. Many consider this upheaval to be very dangerous to the consensus on which the automotive business is based.
■
Whether I use more costly original parts or more affordable alternatives is guaranteed not only by EU Commission Regulation 1400/2002 (sometimes referred to as GVO) but also by the aforementioned Repair Clause. Do these rules stop to apply when it comes to Audi body parts?
    For the last few years, Audi has been claiming that the empty space in the radiator grille, the logo base itself, is the trademark infringement. Grilles with the installation holes designed to fasten the chromed logo with four circles have become unavailable in numerous EU countries. This is the result of courts ruling against the independent automotive industry and in favor of Audi. Trials before German courts caused internet sellers, importers and wholesalers to withdraw Audi grilles from their offers. This led to a situation where owners of old Audi models can no longer obtain such parts, as replacement parts are banned and original parts are no longer available. We have reasons to believe that Spanish courts will soon follow their German counterparts.
What happens now? Who is going to be next? Czechia, Slovakia and Romania have already conceded to the pressure. Therefore not only Audi grilles but also alternative body parts for Skoda and Dacia have become unavailable. The ban on imports, offering, advertising and sales of Skoda and Dacia parts is the direct result of lack of local Repair Clause laws. Car manufacturers take advantage of it.
■
So far, Polish justice system generally agrees that "marking" the non-original item with the original manufacturer's logo is necessary to consider this a criminal offence. I mean the very act of combining the protected trademark or logo with the non-original product, e.g. in the clothing industry by sewing logos onto counterfeits. But in this case we are not talking about pretending the goods come from the car manufacturer…
    First of all, let me impugn any guesses or accusations of Polcar's wrongdoings. The original grille, i.e. OE quality, carries a small Audi logo on the inside. Our grilles have never had such logos, so that no customer is led into a misconception. We are fully aware that four overlapping circles constitute an EU trademark, registered at the European Union Intellectual Property Office (EUIPO).
    Not only body repair professionals know that Polcar, since it was established in 1986, has become an aftermarket giant. We initiated foreign sales (including EU countries) long before Poland became a member state of the European Union.
    This is relevant because throughout the 35 years of our existence, we supplied tens of thousands of replacement Audi 80 type B3 ('86-'91) and a few thousand Audi A6 ('94-'97) grilles. The range of Audi models doesn't end here, so we may have very well supplied hundreds of thousands parts, necessary to finish off the car restoration process. However, as soon as the customs office in Gdańsk confiscated 73 grilles, including Audi 80 (B3) – which are no longer carried by Audi, we decided to stop offering such items. For the past few years, Polish distributors have been anxiously awaiting court rulings on the matter, in order to know whether they are allowed to offer these grilles or not.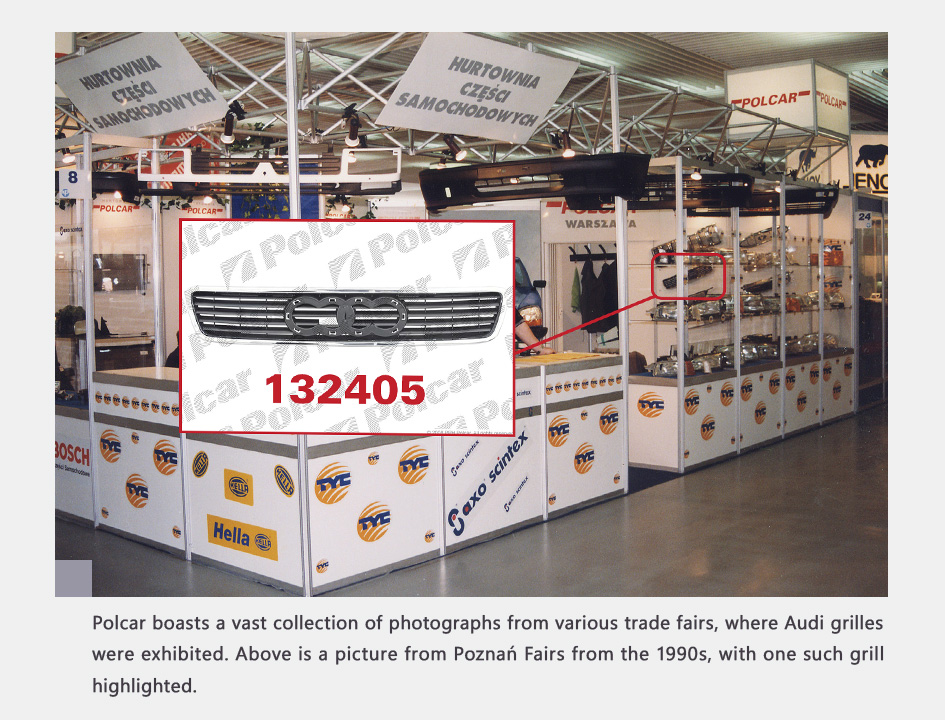 ■
Meanwhile, car owners are already lacking options?
    Out of 140,000 Polcar catalog items, you won't find a single one without an indication whether the part is original or aftermarket. Even aftermarket parts come in several quality classes. Each label clearly shows the quality designation. We never mislead the customer, the quality level policy leaves no doubt regarding the origin of the particular item. The quality designation system is based on the EU Commission Regulation 1400/2002 (and later 461/2010). Polcar's approach to quality, i.e. clearly labeling all of its parts is unique worldwide. It enables the customer to make a perfectly educated decision with regard to the most important criteria, e.g. quality/price ratio, age of the car, etc.
■
In view of this, how do you restore a youngtimer car like the Audi 80 (B3)? All you can do is resort to OE parts?
    Well, the problem is that even Audi no longer offers grilles for this model! They are not available at the online Audi classic parts shop. Faced with lack of access to original replacement parts, it is the customer that suffers in the end.
    This comes as a major change, as aftermarket used to offer these parts for decades. Starting in the 1980s and 1990s, many of such non-original grilles came from German and Belgian wholesalers. Until recently, these products were bought by money-conscious customers, who were well aware that by choosing an aftermarket grille, they would save a lot of cash.
    What's important, Audi sells the grilles and the logos – four overlapping circles – separately. According to them, the shape of the logo base resembles the logo itself, which is of course unavoidable from a technical standpoint, and that's why sales of the grilles should be banned. However, the Repair Clause valid in Poland – as well as in many other EU countries – enables the faithful reproduction of car parts in order to facilitate restoration of the original shape and form of the car, securing customer satisfaction and competitiveness of the market. Unfortunately all alternative methods of fastening the logo on the non-original grilles have been put into question by Audi.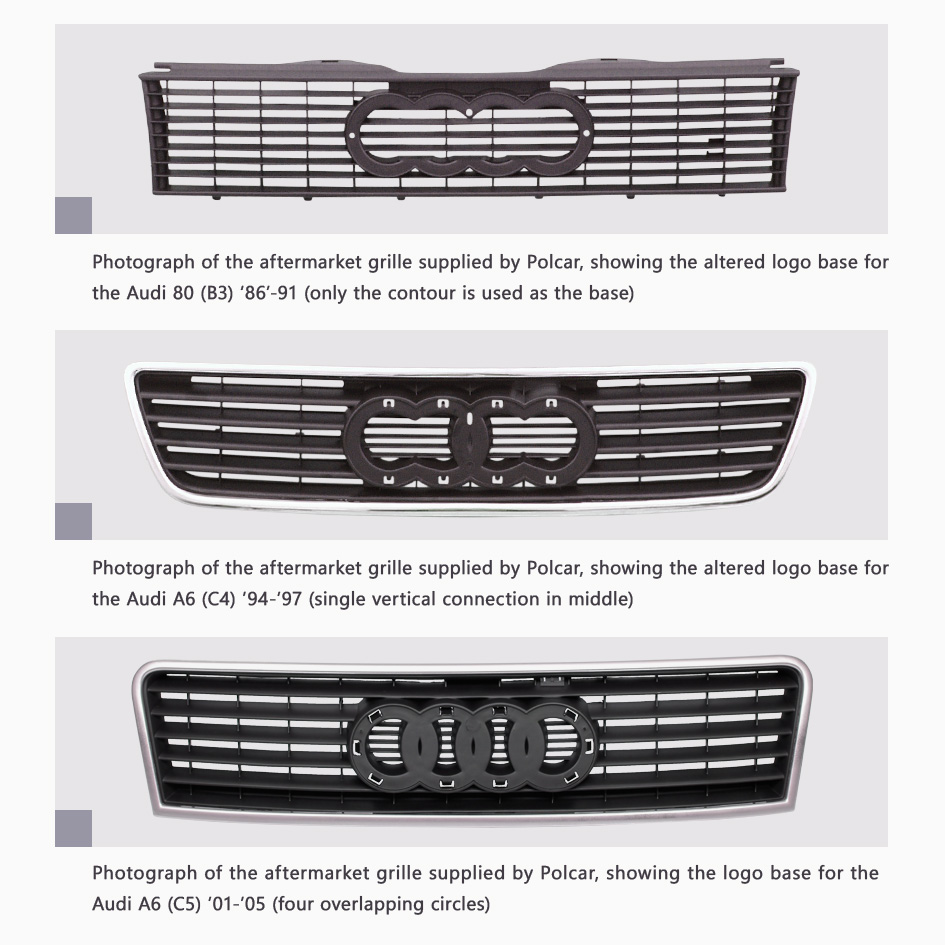 ■
Somebody at Audi, after several decades, suddenly realizes that the technical logo base resembles the logo a little too much?
    For decades, Polcar was able to offer these grilles, including international events such as Automechanika Frankfurt, whose subsequent iterations, beginning from 2006, embraced the "Messe Frankfurt against Copying" initiative. Our products were never put into question. Please bear in mind that Polcar imports goods from more than 350 manufacturers around the globe. What's more, customs officers scrutinized us, looking at products, their packaging and quality designations. During numerous inspections, no doubt was ever cast on our quality designation system, prepared in accordance with EU Commission Regulation 1400/2002. With each subsequent edition of Automechanika Frankfurt and other European trade shows, the range of Audi grilles grew, as new models were introduced.
    We were never approached by anyone representing Audi. There were no suggestions about any wrongdoing towards them. As of recently, things turned around. Audi became so determined that they not only launch civil claims but also try to start criminal cases against owners of distribution companies. I believe this to be a very oppressive policy, designed to intimidate all major aftermarket players.
■
As of recently, the Ingolstadt-based manufacturer claims that you are no longer allowed to sell grilles with the logo base that bears resemblance to the logo itself, as this is a trademark infringement.
    And Polcar consistently believes that the logo base with fixing holes is not a logo itself, it only enables the logo to be installed. As the Repair Clause states, the non-original replacement part should look identical to the original. It cannot be done any other way, as it is designed to restore a complex product, such as a car.
    We are aware that Audi's motivation for suing us is the idea that a customer might be misled into thinking that what they buy is an Audi-sourced, original product. But customers are fully aware that Polcar sells aftermarket grilles. This comes both from our very clear labelling system but also the long-standing tradition of 35 years in the business. And they also know that the grille must provide an esthetical and safe way of ensuring the logo stays in place. Customers, without a doubt, do not perceive the logo base to be the logo itself.
    What's sad is that due to this sudden change in Audi's attitude, distributors of aftermarket grilles are being legally attacked. A foreign company launched criminal and civil cases, despite the fact the Poland – contrary to Germany – adopted the Repair Clause a long time ago. And, as I mentioned before, they are blocking imports of such items through Polish customs services.
■
We can only hope that case law is not applicable to the Polish judicial system. According to past rulings, counterfeiting is making the copy unrecognizable against the original.
    Industrial property law defines situations in which monopoly granted to the trademark owner is restricted. One cannot forbid others – in this case the aftermarket – from using features pointing to the applications of the goods. In order to use the trademark, one needs to show it is being used for reference or information only. Let me stress it one more time – Polcar consciously resigned from using any form of a logo on the goods, even those not visible after the particular part has been installed. We did that to avoid accusations of offering goods carrying a trademark which we are not entitled to use.
■
Perhaps insurance companies could provide a strong argument to leave the choice to the customer. Isn't it a common practice that when calculating repair costs, aftermarket parts are taken into account? Simply because they cost less.
    Obviously, it used to work this way until recently. In case of older cars – Polish market is filled with them – Audi no longer supplies many original parts. The only easily accessible source of grilles were aftermarket suppliers. Whenever the car went beyond 3 or 5 years of age, so-called optimization kicked in and insurance companies commonly suggested the use of aftermarket parts for repairs. In short, installation of non-original grilles from Polcar was suggested! The customer had a choice. Isn't it what competitive market is all about? The customer could have gone for the OE grille, costing hundreds of Euros or the aftermarket part at half or even a quarter of the price.
■
Have the grille prices skyrocketed after this legal battle commenced? This very fact would provide yet another argument that long-time EU market consensus was upended. After all, the European Commission frequently presented its views on applying the EU regulations in order to protect competitiveness in the automotive industry.
    Audi grille prices are already higher in Germany than in Poland, because they managed to stifle the aftermarket competitors some time ago. Nowadays, faced with the lack of competition, Polish Audi dealers followed suit. It is hard not to suspect that the main reason behind launching this operation was to obtain monopoly and to raise grille – and in the future other parts technically related to the logo – prices even more.
    The lack of choice poses yet another threat. The shortages of goods or their unreasonably high prices will cause the number of car thefts to spike. We, who represent aftermarket, in a way provide a defense against the increase of car thefts. It's easy to see that the most stolen models are the ones with limited access to aftermarket parts. Because it makes no financial sense to produce them or – and this is the worst-case scenario – they are not allowed to be produced.
■ [interview by Rafał Dobrowolski]
Source:  
Nowoczesny warsztat nr 9/2021 ("Modern workshop" magazine) - Brak wyboru to najgorszy scenariusz (The lack of choice is the worst-case scenario)
Source PDF